Savannah 54 Motor Yacht
Perfect for Corporate Entertaining and Cruising in Comfort
Built locally, The Savannah 54 is a blend of classic traditional styling enhanced by Italian design cues. It delivers luxury typically associated with much larger vessels or "mega yachts". Its unique design incorporates generous use of glass that draws in abundant natural light. The result is a feeling of spacious openness that is perfect for corporate events or simply entertaining friends and business associates.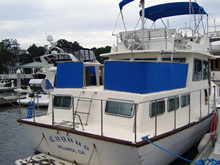 Thompson 45
The Floating Conference Room
Make your next business presentation literally in the Port! The Thompson 45 is configured to accommodate a conference table, audio visual equipment, and food service. Windows surround the cabin on all sides revealing the Port of Savannah and the Historic Savannah River as the background for your meeting. After your meeting, relax in the sunshine on the spacious upper deck as you cruise the Savannah River.
Regal 31
Casual Crusing Yacht
Great for a flexible, casual, fun cruise for 4 to 6 guests. Motor to your choice of destinations – the Port, up river, the Savannah National Wildlife Refuge, or anywhere on the Savannah River and beyond. The Regal 31 will get you there in style.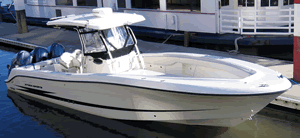 33 Hydra-Sports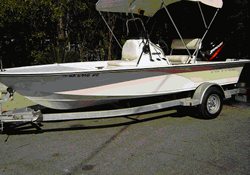 Nitro 18 Utility
Pontoon